Section23 is getting ready to release Sentai Filmworks' Monster Musume: Everyday Life with Monster Girls (uncensored) on Blu-ray/DVD and Premium Box Set editions on July 25th. Today, to prepare, they revealed the English dub cast for 2015's adaptation of the Okayado fantasy comedy.
ABOUT MONSTER MUSUME: EVERYDAY LIFE WITH MONSTER GIRLS
No one expected the government to suddenly acknowledge the existence of demi-human species like harpies and centaurs, but when a careless Integration Agent shows up on Kimihito Kurusu's doorstep with an attractive Lamia in tow, he suddenly finds himself designated as a "Host Family". This might not be so bad, except that while Miia's top half is all girl and quickly develops a crush on her new human host, her snakelike bottom half makes that crush literal with a tendency to squeeze the life out of him! Plus, there's also the little problem that it's illegal for humans and non-humans to have THOSE kinds of relationships. With woman-in-black Agent Smith always sniffing about for improprieties, things only get more hectic in the Kurusu household when bird-brained Papi the harpy and master-seeking centaur Centorea need places to roost and stable. As the house gets crowded with even more captivating cuties, can any human male survive under such tempestuous and tempting conditions? Find out in MONSTER MUSUME: EVERYDAY LIFE WITH MONSTER GIRLS!
Rating:
TV-MA [S, D]
Director:
Kyle Colby Jones
Assistant Director:
Shannon Reed
ADR Writer:
Kyle Colby Jones
Katelyn Barr
MONSTER MUSUME ENGLISH DUB CAST LIST
| | |
| --- | --- |
| Darling Master Kimihito | Bryson Baugus |
| Miia | Allison Sumrall |
| Cerea | Molly Searcy |
| Papi | Brittney Karbowski |
| Suu | Monica Rial |
| Mero | Maggie Flecknoe |
| Ms. Smith | Shelley Calene-Black |
| Rachnera | Courtney Lomelo |
| Zombina | Kira Vincent-Davis |
| Tio | Christina Stroup |
| Manako | Jad Saxton |
| Doppel | Emily Neves |
| LaLa | Carli Mosier |
| Draco | Rachel Landon |
| Kii | Tiffany Terrell |
| Lilith | Mina Getois |
| Polt | Christina Kelly |
| Ren | Juliet Simmons |
| Kasegi | Steven Finley |
| | |
| Also with: | Andrew Love |
| | Chris Hutchison |
| | John Swasey |
| | Greg Cote |
| | Katelyn Barr |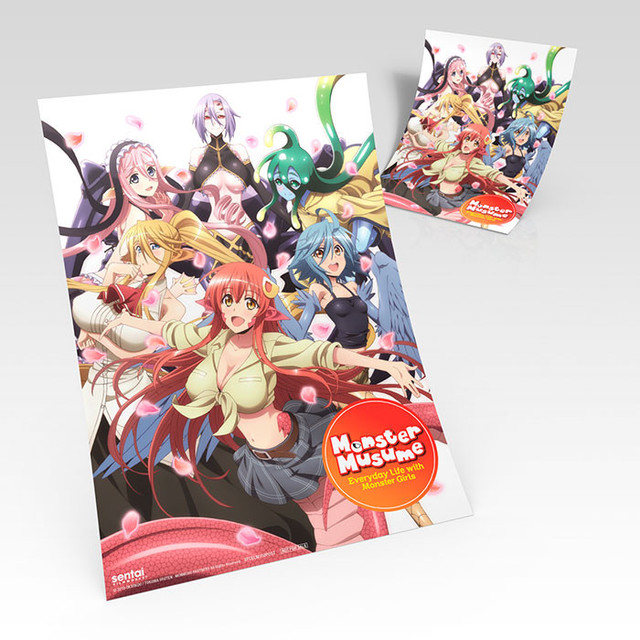 ------
Scott Green is editor and reporter for anime and manga at geek entertainment site Ain't It Cool News. Follow him on Twitter at @aicnanime.