What's "Cruising the Crunchy-Catalog?"
If choosing a new anime to watch is like surviving the turmoils of high school, consider "Cruising the Crunchy-Catalog" to be your friendly guidance counselor. Each week we provide additional information and cultural context to help anime fans decide whether or not they'd like to test out an unknown series.
What's Girl's High?
Girl's High is a 2006 TV anime with direction by Yoshitaka Fujimoto and animation by Arms Corporation and Genco. The series is based on the Joshi Kōsei manga by Towa Oshima, which was serialized from 2001 – 2004 in Futabasha's Manga Action seinen manga magazine and from 2004 – 2006 in Futabasha's Comic High! Seinen manga magazine. Crunchyroll describes Girl's High as follows:
Eriko and her friends finally make it to an exclusive high school and they're ready to make the most of it!
That's not a lot of information to go on, is it? Let's crack the books and study up on what Girl's High has to offer.
A Woman's Touch?
The original Girl's High manga is a high school comedy that is written and illustrated by a woman for magazines that aim at an audience of young men. As a result, the Girl's High anime TV series brings a different perspective to the high school experience than similar comedies that feature an all-girls main cast, such as Azumanga Daioh or YUYUSHIKI.
Eriko and company are not idealized high school girls. They can be catty and competitive. They have strong sexual desires and they're not afraid to express themselves. They contend with all manner of feminine-coded problems, including but not limited to menstrual cramps and unwanted body hair. In short, they feel like more well-realized young women than many similar characters in the high school comedy subgenre.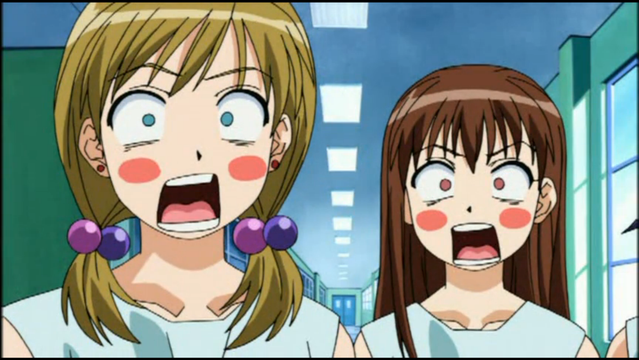 What Are They Touching, Exactly?
While many high school comedies offer a blushing, embarrassed perspective when it comes to sex, Girl's High is anything but Puritanical. Sexual humor is the show's bread and butter, with a thick dollop of fan service as a side dish. The comedy in Girl's High also relies on slapstick and exaggeration, but potential viewers should be ready for a heavy rotation of raunchy jokes.
Girl's High also includes situational comedy that takes an otherwise ordinary Japanese high school scenario and adds a layer of absurdity, such as when a routine physical wellness exam turns into a school-wide scavenger hunt or when the school cultural festival degenerates into a sexy arms race of moe maid cafes and dubious massage parlors.
Beneath the Surface, A Touching Drama?
While the primary goal of Girl's High is to make the audience laugh, the show also deals with some heavy subject matter. Over the course of the series, Eriko and her friends fend off sexual predators and navigate stormy emotional waters involving intense sibling rivalry, bullying, and fractured friendships. When Girl's High takes a more serious tone, it can be a surprisingly touching drama.
Class is In Session.
Crunchyroll currently streams Girl's High in the United States, Canada, Puerto Rico, American Samoa, the United States Minor Outlying Islands, the US Virgin Islands, and Guam. The series is available in the original Japanese language with English subtitles. Girl's High is also released on DVD in North America by Media Blasters.
An English language version of the original Joshi Kōsei manga was published in print by DrMaster and digitally by JManga under the title High School Girls, but these versions are out-of-print and no longer available online, respectively.
Girl's High is recommended for viewers who like their comedy rowdy, ridiculous, and just a little a bit rude. If you're in the mood for bawdy humor, gratuitous panty shots, and a dash of drama with a strong emotional under-girding, please consider giving Girl's High a try.
Special thanks go to resident joshi kōsei enthusiast @Blatch0 for suggesting the subject of this week's episode of "Cruising the Crunchy-Catalog". Is there a series in Crunchyroll's catalog that you think needs some more love and attention? Please send in your suggestions via e-mail to cruisingcrunchy@gmail.com or post a Tweet to @gooberzilla. Your pick could inspire the next installment of "Cruising the Crunchy-Catalog"!
Paul Chapman is the host of The Greatest Movie EVER! Podcast and GME! Anime Fun Time.